Architectural Bent and Curved Glass
Architectural Toughened & Laminated Bent Glass
Glasshape® offers a comprehensive portfolio of fully certified architectural toughened bent glass for interior and exterior designs. Toughened glass is strengthened using a complex heating process before being rapidly cooled. This toughening process makes it several times stronger than standard annealed glass.
Perfect for internal partitioning, stair and atrium balustrades and frameless doors; to name just a few of its applications, our toughened glass solutions provide high-level safety and strength. Even if it breaks, it will shatter into small, rounded pieces, making them less likely to cause damage or injury.
Toughened glass differs from laminated glass in its design and specific uses. Laminated glass is typically produced using two panes of glass (toughened or float) that are joined together with an interlayer to provide maximum strength and durability. This keeps the glass panel intact even if it breaks.
This safety aspect is one of the most important advantages to using laminated glass. Glasshape can provide both toughened and laminated glass solutions to meet your specific requirements.
Architectural Glass Solutions Brochure
Want to view & receive a copy of our Architectural Glass Solutions Brochure?
Architectural Glass Solutions Brochure
Want to view & receive a copy of our Architectural Glass Solutions Brochure, Click on the Button below...
Show Me!
TemperShield® - Bent, Tempered & Laminated Glass - Features & Benefits
TemperShield® - Bent, Tempered & Laminated Glass - Applications
Exteriors: TemperShield® is a highly versatile solution that can be customised for exterior-facing projects, including shop front displays and revolving doors. Our expert team of designers can combine TemperShield® with VisionInk® glass-printing capabilities to control SHG and VLT properties. It can also be used for curved rooflights in atrium and other entrance way spaces.
Interiors: TemperShield® can be applied to a variety of interior spaces to maximise natural light exposure, including for offices, shops, malls, restaurants and cafés. Within these spaces, it's often used for internal partitioning, stair and atrium balustrades, skylights, frameless doors and glass floors. Use VisionInk® to create striking and colourful digital ceramic images to be fused right into the glass surface.
Cabinetry: We can modify TemperShield® using Glasshape's glass-bending capabilities, making it perfect for presentation cabinets. It can also be combined with BanditShield® to provide protection from "smash-and-grab" burglaries.
Balustrading: Curved toughened (tempered) glass gives new and renovated homes additional light and space that allow for unobstructed views and protection from wind. Structural balustrades require the glass to take handrail loads, so they must use toughened safety glass. The loading on the glass is determined by NZS4203 or AS/NZS 1170.
Curved staircase balustrades: Bent glass railings can be used to enhance the aesthetic of a curved staircase, which is the focal point in many large residences. Glasshape produces the tightest bend on a 12mm (1/2″) pane with a radius of just 700mm (28″), an industry benchmark.
Residential bay windows: Curved glass bay windows help accentuate the façade of contemporary dwellings. Long, sweeping curves allow for distinctive designs and panoramic views, with the generous expanse of glass enhancing the feeling of openness and freedom, while also letting in plenty of natural light.
Typical Architectural Bent, Tempered & Laminated Glass Applications
TemperShield® - Glass Bending Capabilities
Our architectural glass products can be custom-made to fit your project's parameters. Glasshape can manufacture a comprehensive portfolio of certified specialty architectural glass in both flat panes and our signature bends. We have the ability to bend our glass into many different shapes and sizes, providing a limitless array of options for custom designs.
Our glass is bent using two main methods
When using this design, the direction of curvature runs in one direction, effectively creating a cylindrical form.
Three dimensional designs use a multi-directional bend, resulting in a complex curvature, like a dome.
TemperShield® - Typical Glass Bending Options:
Watch the "TemperShield® Specialty Toughened Curved Glass" Video
TemperShield® - Manufacturing Bent Glass Parameters:
J Bends Even & Uneven Radius
TemperShield® Architectural Bent Glass Projects
Interior Block
Architectural Bent Glass
Inspiration
Explore our gallery of completed Architectural Bent Glass projects and be inspired to realize your ideas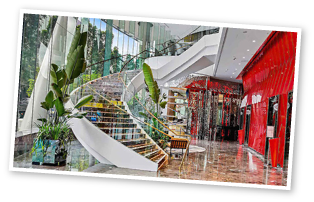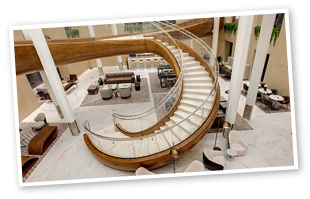 Contact us today to learn more about our glass solutions!